FINE DINING
Take a seat in your unique, elegant carriage and await a feast for all the senses.
Your table is set with starched white cloth, shining silverware and glittering crystal. It reflects a breathtaking attention to detail.
The cuisine is a delight, accompanied by champagne and wines carefully selected to complement the fine food.
Luxury Cuisine

Featuring the finest seasonal ingredients from the British Isles, classic and innovative dishes are crafted by our executive head chef and his team in a cupboard-sized kitchen.
The scenery that unfolds from your window inspires each and every course.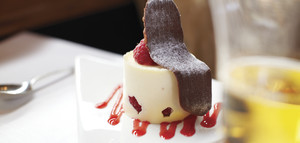 Test your culinary skills at home and dazzle family and friends with your cooking.
Get inspired
Our Recommended Fine Dining Journeys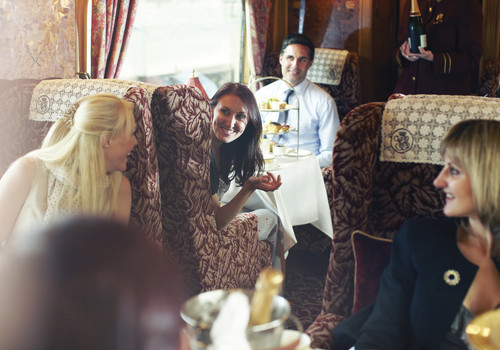 Afternoon Tea
Indulge in the quintessential British experience of afternoon tea aboard the beautiful Belmond Northern Belle train.
Departures:
Derby, Nottingham, Glasgow, Manchester, Lincoln, Newark, Grantham, Leeds, York, Bolton, Preston, Sheffield, Birmingham, Coventry, Chetser, Crewe, Doncaster, Durham, Newcastle, Liverpool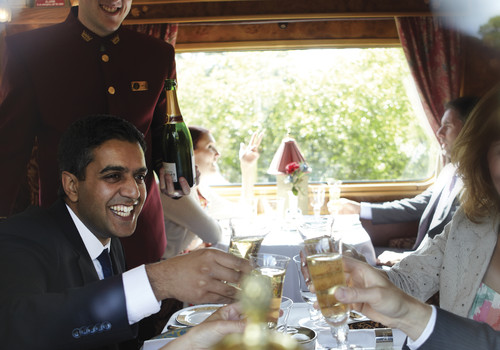 The Spirit of Travel Lunch
Embrace the glamour of 1930s train travel while enjoying a fine dining experience aboard the beautiful Belmond Northern Belle.
Departures:
Glasgow, Cardiff, Leeds, York, Bolton, Crewe, Manchester, Birmingham, Chester, Liverpool, Wolverhampton, Derby, Leicester, Edinburgh