RHS Chatsworth Flower Show
Join the Belmond Northern Belle train on a thrilling day excursion to the new RHS Chatsworth Flower Show.
Your day begins with a fine dining experience on the outward journey. Settle into your plush seat and sip a refreshing Bellini, admiring the beautiful details of your vintage carriage.
Your table is set with pristine white linen and bespoke china. Liveried stewards take care of your every need as you indulge in a delicious brunch. Sit back, relax and enjoy the ever-changing views through your picture window as the train makes its way towards the rolling hills of Derbyshire.
On arrival you board a coach for the short journey to Chatsworth, magnificent home of the Duke and Duchess of Devonshire. Pause to admire the splendour of the stately home and its picturesque backdrop before entering the flower show.
You are welcomed back on board the train with a champagne reception. The day's visual feasts are followed by a gastronomic treat as you enjoy a four-course dinner with our sommelier's selection of wine.
Sip your champagne, chat about the highlights of your day and delight in the scenery. Take time to wander through the other carriages admiring the opulent design details that make this luxury "Belle" train unique.
Includes
Round-trip travel aboard the Belmond Northern Belle luxury train
Welcome sparkling Bellini
Fine-dining
Delicious three-course brunch on the outward journey
Morning tea and coffee
Afternoon at the flower show, including coach transfers and admission
Champagne reception back on board
Sumptuous four-course dinner: British seasonal table d'hôte menu including Great British cheese board, biscuits and chutneys
Half a bottle of wine per person
Coffee, tea and petits fours
THE FLOWER SHOW
Be part of a new legacy as Chatsworth Estate hosts its first RHS flower show, joining the world-renown calendar of annual events in Chelsea, Hampton Court Palace and Cardiff. RHS Chatsworth promises to be an unmissable botanical event in the spectacular surrounds designed by 'Capability' Brown. The show will focus on cutting-edge design and the concept of 'future heritage', using often-overlooked local crafts in unique, interesting ways. A new category of freeform will encourage designers to think outside of the box with sculptural pieces that are sure to provide a real spectacle for visitors. Find out more >

Loading your journey results
Please note
All timings shown on this website are for your guidance only—a confirmed schedule will be supplied with your travel documents
Please ensure you bring your travel documents on the day of your journey
If booking up to eight (8) weeks prior to departure, a non-refundable 15% deposit is required to secure your seats
Payment is required in full if you are booking within eight (8) weeks of travel
Full payment and cancellation details can be found in our Terms and Conditions page >
Our Best Available rate is subject to availability at time of booking, it is not applicable for parties of 12 or more. Please contact tcgroupsuk@belmond.com for group pricing.

Loading other journeys you may like
Need some help?
For further information, assistance in choosing your journey or to purchase this journey as a gift, please call us on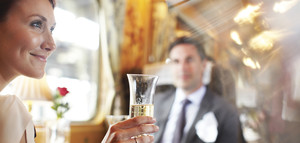 Delight a friend or loved one with the ultimate present—a gift card for the trip of a lifetime.
Onboard information
Carriage information
Currency converter